WANTED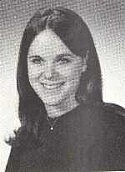 Last known picture of Anne Klocko, Artist


Anne Klocko, aka Anne Klocko

Wanted in numerous states for multiple counts of whimsy and for mooning the fine arts. Suspect is not armed, and is usually not too dangerous. Known to have a weakness for art shows, and for imperial rolls.
The suspect began her notorious art spree in New York, but fled to California in 1975. From her hideout in the Bay Area, she eventually built a syndicate pushing satin mobiles and other whimsical items onto an unsuspecting public. "These are really cute!" innocent people would say. Unfortunately, her success didn't go unnoticed by the dons of the gift business. "Make her an offer she can't refuse," they said through their gritted teeth.
Unable to resist a takeover of her gang by Dakin - one of the kingpins of Organized Toys - Anne could only watch helplessly as gift stores nationally and internationally were flooded with her Flying Fantasies (tm) line of hanging mobiles, and her Squeeky Cheeks (tm) line of soft sculpture dolls. "These are really cute!" innocent people would say. In the meantime, all she could do was to continually churn out design after design for the Dakin mob, toiling in fiber-filled back rooms. Luckily, royalties bought her an early retirement in the federal artist protection program.
Unable to accept her new life of anonymity, though, Anne resurfaced several years later on the West Coast art scene, in a seemingly innocuous art fair booth. Using her modus operandi of whimsy, Anne soon began foisting her new pictures made from vinyl clay onto the same unsuspecting public. The arbiters of fine art were scandalized. Fun and art together? Sniff! The very idea! How could she? Meanwhile, promoters at quality fine art shows such as the Saratoga Rotary Art Show and the Palo Alto Festival of Arts continued to invite Anne to exhibit.
"These are really cute!" innocent people would say.
The suspect was last sighted at an art show in California, eating an imperial roll. If you encounter the suspect, don't try to apprehend her. Whimsy is a dangerous weapon.